Met my old friend, Steve Kuusisto for the first time last night. And we spent the evening talking like old friends do. We talked about our kids, our work, our travels, our pasts, our futures. We talked about our ideas of wisdom, our ideas of humor, our ideas of America. We talked about our politics. About mooning the Romney's, about Richard Nixon, about Reagan. We recited lyrics:
They say the President's dead
No one can find his head
It's been missing now for weeks
And no one noticed it
He had seemed so fit
I'm sick of it
We talked about our blogs.
"We should do guest posts on each others' blogs."
"If I ever start writing again!"
And since he's never stopped because he can't stop because he's a real writer who beat me out in a real writing contest, he's gets the first guest post.
He wins again!
And you can too. How?
Read on, old friends.
************
Minneapolis-St. Paul Here I Come
(originally published on Planet of the Blind, April 2010)
I am heading today to St. Catherine's University in St. Paul Minnesota where I will be teaching creative writing over the course of this next week. According to my Blackberry "Weather Channel" application it will be sunny in the twin cities; the average "high" will be 70 degrees. There will be birds in the half green trees though my phone doesn't say so. There will be people at St. Catherine's who love poetry and literary writing though again my phone doesn't say it. My phone doesn't have a poetry "app" and it can't locate imagination though its the thing you want if you're looking for a nearby Irish pub. Meanwhile I am packing my spring apparel which looks like my winter apparel because I am a dull man when it comes to appearances. All my cinctured, ruby caftans are inside. On the inside I'm Coco Chanel meets Kandinsky. And this brings us back to creative writing. You see, my inner Coco Kandinsky is not a snob. S(h)e believes that everyone can write. S(h)e also believes that most people don't have access to good ideas and/or scintillating examples of imaginative writing. S(h)e is not an aesthete though s(h)e could be.
The point is that one may write about anything. Poetry is always with us. It may be a homely thing that gives us the poem. The Swedish poet Lars Gustafsson once saw a house fly while he was riding on a night train. He writes:
Puzzled fly
shut in a night express
still trying to fly
and doing remarkably well
From the south end of the train it arrives at the north
already a far wiser fly
and the train roars all the faster into the night
**
Of course it isn't enough to say one can find poetry in anything; it is better to say that all conditions, random, slippery, half-formed, minor--all these present the background of our lives. Chance things give us words and words ex nihilo give us clues and clues are lyrics. Does poetry make you better? Probably not. But it makes you a wiser fly on the night express.
***************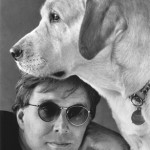 Professor Stephen Kuusisto, blind since birth, is the author of "Eavesdropping: A Memoir of Blindness and Listening" and the acclaimed memoir "Planet of the Blind", a New York Times "Notable Book of the Year". He has also published "Only Bread, Only Light", a collection of poems from Copper Canyon Press. As director of the Renee Crown University Honors Program and a University Professor at Syracuse University, Steve speaks widely on diversity, disability, education, and public policy. www.stephenkuusisto.com
In celebration of National Poetry Month, Steve is giving away one free autographed copy of his book, "Only Bread, Only Light" (Copper Canyon Press), to a reader of this blog. To take advantage of this offer, leave a comment below then Contact Steve to leave your (confidential) contact info. Your name will be entered in a random drawing. The winner's name will be posted in a comment below.